The BMW 4 Series vs. BMW X4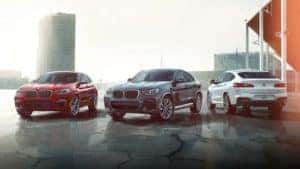 There are plenty of buyers out there who know they are interested in BMW cars but aren't sure which model is right for them. Today we're going to help drivers who might be on the fence between a sportier model and a larger crossover option by looking at the differences between the 2021 BMW 4 Series models and the 2021 BMW X4.
Car vs. Crossover
There are a few things to consider in making a choice between this BMW car or BMW crossover.
Daily Life

Do you have a long commute? You might prefer the more compact and fuel-efficient BMW 4 Series.
Do you have a family or pets? The increased space and extra doors on the BMW X4 can make family life or traveling with pets easier.

Travel

The moonroof on the BMW X4 and the convertible option with the BMW 4 Series can both add an open-air feel to road trips.
A larger cargo area and additional seating in the BMW X4 make it ideal for family travel.
The sporty feel of the BMW 4 Series is perfect for making the journey as much fun as the destination.

Safety and Technology

Apple Car PlayTM and Android Auto compatibility in both models mean easy smartphone integration.
The BMW 4 Series and BMW X4 both feature the Active Protection System for anticipating accidents and helping to keep passengers safe.
A central information display in either vehicle help drivers keep track of what's going on in their vehicle and access music, navigation, and more.
BMW Models near Encinitas
The BMW X4 and BMW 4 Series are just two examples of the fantastic options you'll find at BMW of El Cajon. If you need help choosing which model is right for you, we can help – just call and talk to an expert BMW dealer. Encinitas drivers can find the perfect coupe, convertible, crossover, or SUV at our dealership.