How Often Should I Get BMW Service?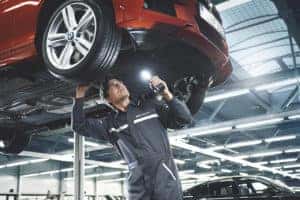 There are so many factors when it comes to an ideal BMW service schedule. The trained and certified technicians at BMW of El Cajon can help you determine the service your BMW vehicle needs – and when it needs it.
What Type of Service Does My Vehicle Need?
Routine auto maintenance has multiple components. Most people consider maintenance only as far as an oil change. However, there are more things to keep in mind.
When visiting our service center for maintenance, we also check the other fluids under your hood and replenish them, if necessary. We change any filters that need to be replaced. Plus, we inspect and rotate your tires to help avoid uneven wear.
How Often Do I Need Service?
The recommended BMW service schedule ranges anywhere from every 5,000 to 15,000 miles. Yes, that's right – 15,000 miles. Newer technology and oil types can drastically increase your maintenance intervals.
Keep in mind, if you own a pre-owned BMW vehicle or older model, you might need to visit us more frequently. You also want to consider the other maintenance requirements your vehicle has. Our trained technicians can help determine the ideal schedule for you.
Should I Come in Sooner?
Keep in mind, even with a recommended maintenance plan, there are still instances where you need to visit us outside your schedule. Watch for warning signs from your vehicle that signal it's time to visit a professional.
Check engine light is on
Unusual or knocking noises
Vibrating while idling
Leaking fluids
Strange smells
Routine auto maintenance is the best way to increase your vehicle's lifespan and get the most out of your new BMW car or SUV. Visit our BMW dealership near San Diego, CA to give your car the TLC it needs. We look forward to seeing you soon!